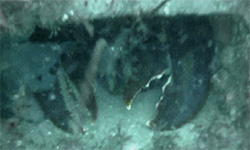 The Habitat Mooring is constructed of cast concrete, with built-in tunnels. These openings provide shelters that are highly attractive to a wide range of marine life, including lobsters, crabs and a variety of fin fish.
Click here to see inventory of marine life.
A mooring that's cost competitive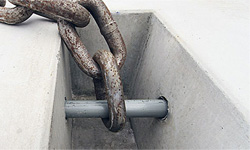 Each Habitat Mooring is poured with high density, fiber reinforced concrete. The hitch rod is 1.25" diameter steel rod that is easily removed for chain attachment. This eliminates the cost of a shackle, as well as a standard horseshoe staple
Field tested and proven
Habitat Moorings have been deployed in harbors all along the Maine coast, from Jonesport to Casco Bay and numerous points in between. Increasingly, mooring setters, fishermen and boat owners are selecting Habitat Moorings for their cost savings, convenience and durable holding power.
In September, 2014, the Maine Maritime Academy in Castine, Maine deployed a Low Profile HMS 8000 in Castine Harbor. The 8,000 lb. mooring will be used to anchor a barge that will serve as platform for testing components for tidal power generation.
Photos courtesy Professor Richard S. Armstrong,
Maine Maritime Academy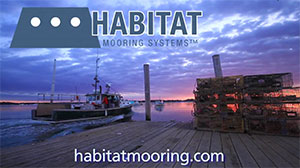 Jamie Steeves, of J & J Lobster Co. in Rockland, Maine, gives a demonstration of the Habitat Mooring.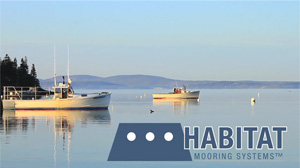 Steve McMullen, of Bay Services in Sorrento, Maine, gives a demonstration of the Habitat Mooring.