List of species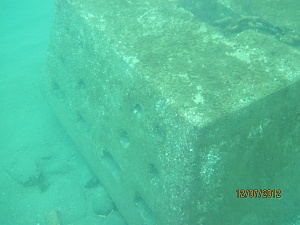 Over 50 species recorded to date.
This list comprises the marine plants and animals observed on Habitat Moorings in 2012 and 2013. It was compiled by Chris Roy, a graduate student at the University of Maine and Dr. Ian Bricknell, Professor of Aquaculture Biology, at The University of Maine.
Vertebrates
Atlantic Cod
Rock Bass
Pollack
American Eel
Mackerel
Flounder
Atlantic Hake
Sculpin
Cunner
Lumpfish
3 species unidentified fish
Invertebrates
Crustaceans
Lobsters
Crabs (7 species)
Barnacles (4 species)
Echinoderms
Sand Dollars
Star Fish (3 species)
Green Urchins
Sea Cucumber
Encrusting Animals
Orange Sponge
Hydroids
Byrozoans
Serpulid Worms
Coelenterates
Plumrose Anemones
Sea Anemones
Sea Squirts
Bivales
Mussels (2 species)
Scallops
Surf Clam
Oyster
Gastropods
Slipper Limpets
True Limpets
Periwinkle
Sea Slug
Whelk
Macro Algae
Sweet Kelp
Ulva (Sea Lettuce)
Dulse
Entromorpha Species
Corraline algae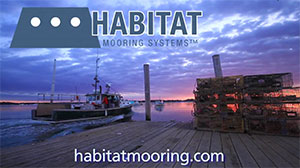 Jamie Steeves, of J & J Lobster Co. in Rockland, Maine, gives a demonstration of the Habitat Mooring.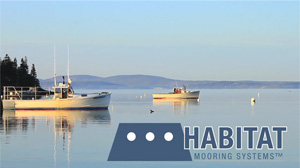 Steve McMullen, of Bay Services in Sorrento, Maine, gives a demonstration of the Habitat Mooring.