HMS-LP 4000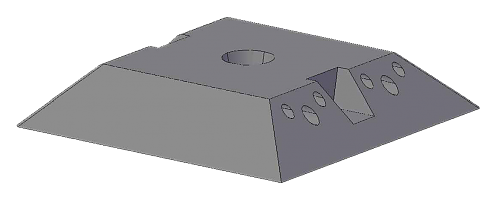 click to enlarge
Mooring Information:
List Price:

For price, call Hamilton Marine at 1-800-639-2715

Weight:

4,305 lbs.

Dimensions:

Base Width 6' 4" square; Top Width 4' 0" square; Height 14"

Concrete:

Structural Fiber Reinforcement; 5,000 PSI Concrete

Steel Hitch Rod:

1.25" Diameter x 41" long. Steel plate welded one end, ½" hole in opposing end, with 2" x ½' galvanized bolt inserted through the hole. Bolt has pierced end so that stainless steel cotter pin can trap the ½" galvanized nut. Welded steel plate measures 3/8" thick x 2" wide x 3" long. Hitch rod, with plate and hardware, weighs 16lbs.

Habitat Chambers:

4 Each 3" diameter tunnels, 2 each 4" diameter tunnels
Spec Sheet
Where to Buy

Call 1-800-639-2715 to order or for more information.
Rock Solid
Each Habitat Mooring is manufactured in Maine and is poured with high density, fiber reinforced concrete rated at 5,000 psi. The span of concrete that holds the hitch rod provides exceptional strength and is rated for shear load of over 120,000 pounds.
No Shackle Required
The ground chain threads directly onto the hitch rod, so there's no need for a shackle – a cost savings of $40.00 to $60.00.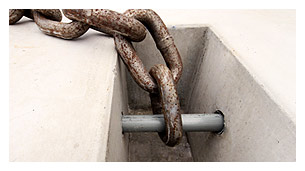 Easy Hitch Rod
Habitat Moorings feature a patented hitch rod system that conveniently allows a ground chain to be threaded directly onto the hitch rod, thus eliminating the need for a shackle. The hitch rod is so simple to use that a diver can easily change it out underwater, saving time and money.